Swiss Villa Transformation in Lviv
Year: 2018
Categories: Housing, Renovation&Restoration
Location: Lviv, Ukraine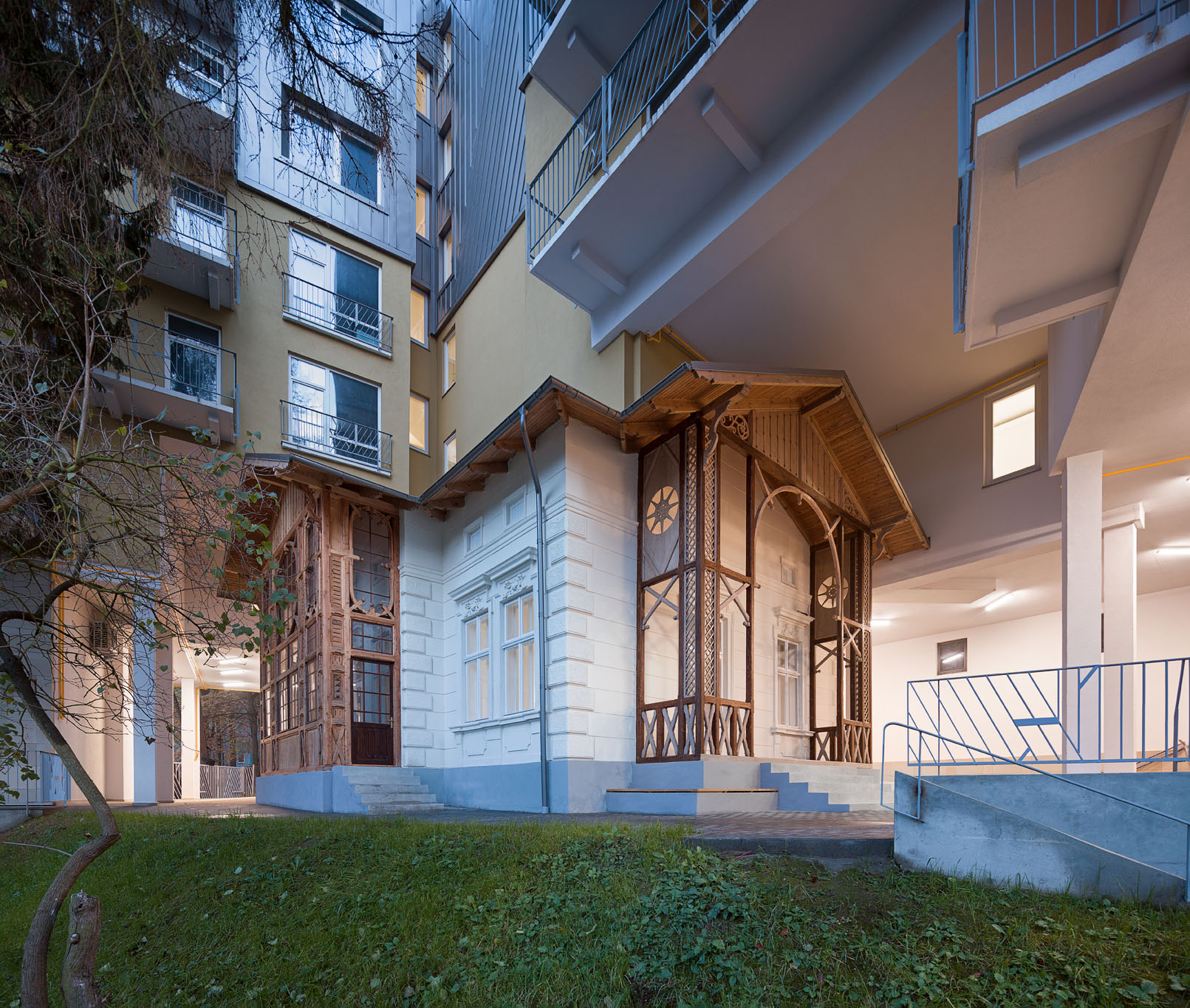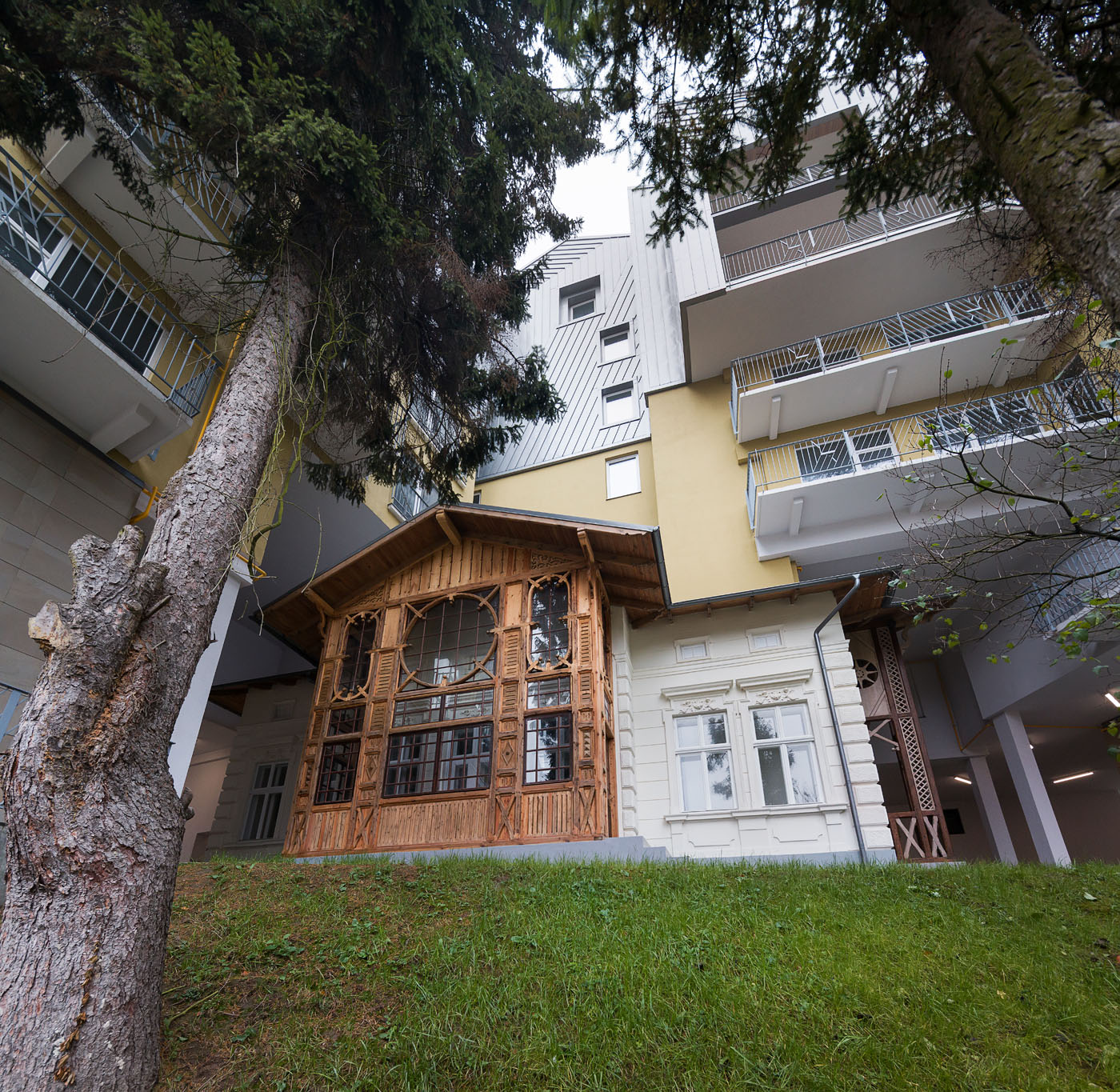 The villa was rebuilt during the Soviet era into two dwellings. Bathrooms were built inside, which changed the primary planning structure. The roof construction was in bad condition. The verandah's foundations went away from the facade, which led to the skewing of the bearing wooden parts. The function of a country villa has disappeared, as it was in the middle of the city, among the 9-story and 5-story buildings. The villa was not a monument of architecture,and it had to repeat the fate of many villas in Lviv, demolished for building new high-rise structures. The architects of the architectural studio Symmetry, specializing in restoration and new construction in the historical environment, appreciated the emotional potential of the villa, persuaded the developer to preserve and restore its valuable architectural elements and adapted it to the entrance node for a new multi-apartment building. Thereby they injected a new life into the villa, integrated into a new function, and spread the romantic image of the Swiss style to the entire new building.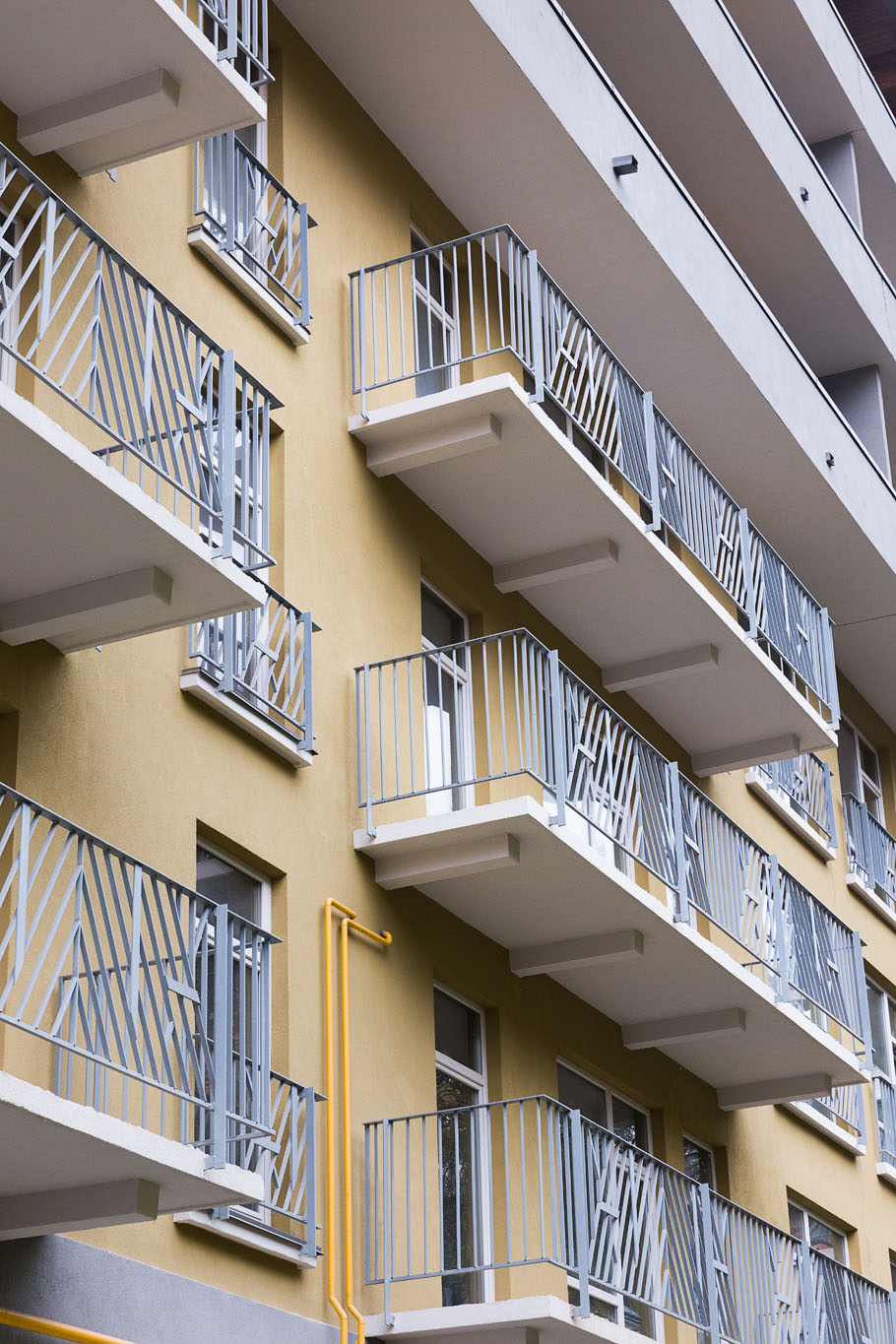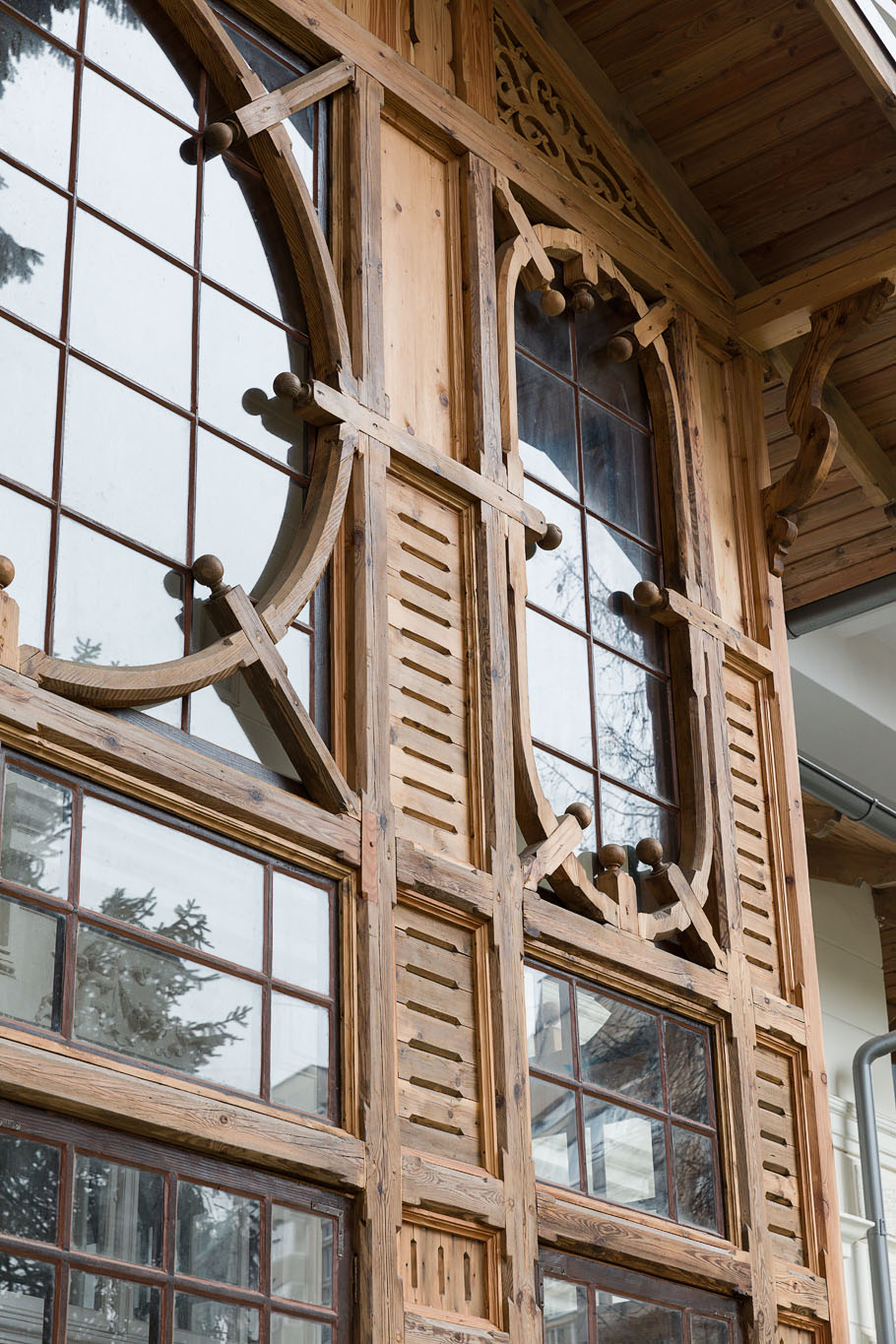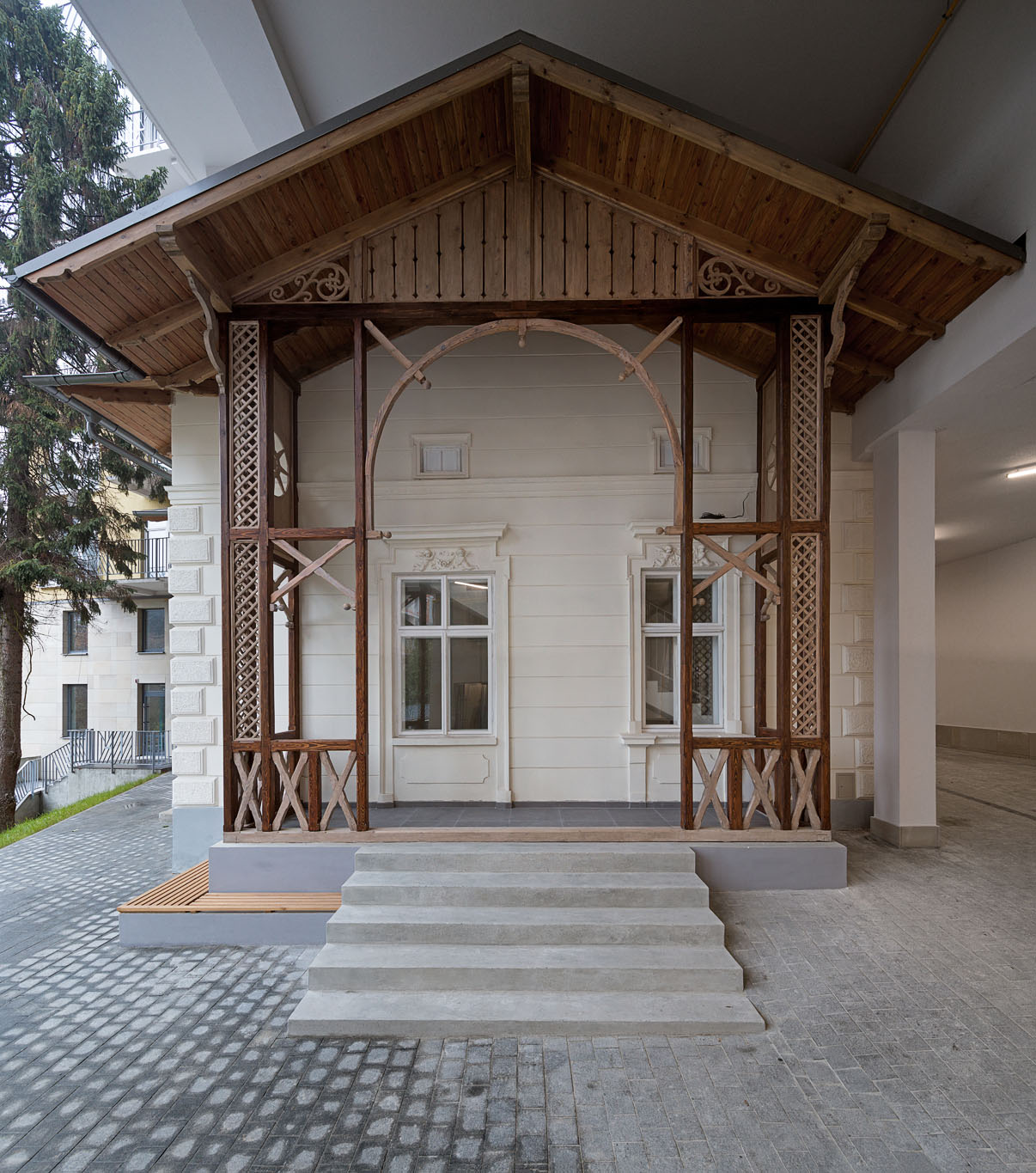 The new volume envelops the villa from the southern and eastern side, rises on the columns for better insolation of apartments and the release of the nearby space. The only physical connection between the old and the new is the vertical communication - stairs and elevators, which carry the inhabitants from the end of the 19th century to the 21st century. In the house are designed 39 apartments, non-residential offices on the ground floor and underground parking for 33 cars.
The roof in the style of the Alpine chalet protects not only the walls, but also the surrounding territory from bad weather, and on a hot summer day from the sun. In winter, such a roof keeps the snow well, which serves as an additional heat protector and helps to keep the heat in the house.A new foundation supplemented the veranda, all authentic wooden elements of verandas and terraces, exterior walls with molded rows, cornices, frames, sandrics, timber frames of windows and doors were preserved and restored with minimal supplements of lost elements.
s