Shopping Center
Comprising a Conference Hall and Hotel Rooms
at 2 Doroshenka Street in the City of Lviv
Year: 2020
Categories: Shopping, hotel
Location: Lviv, Ukraine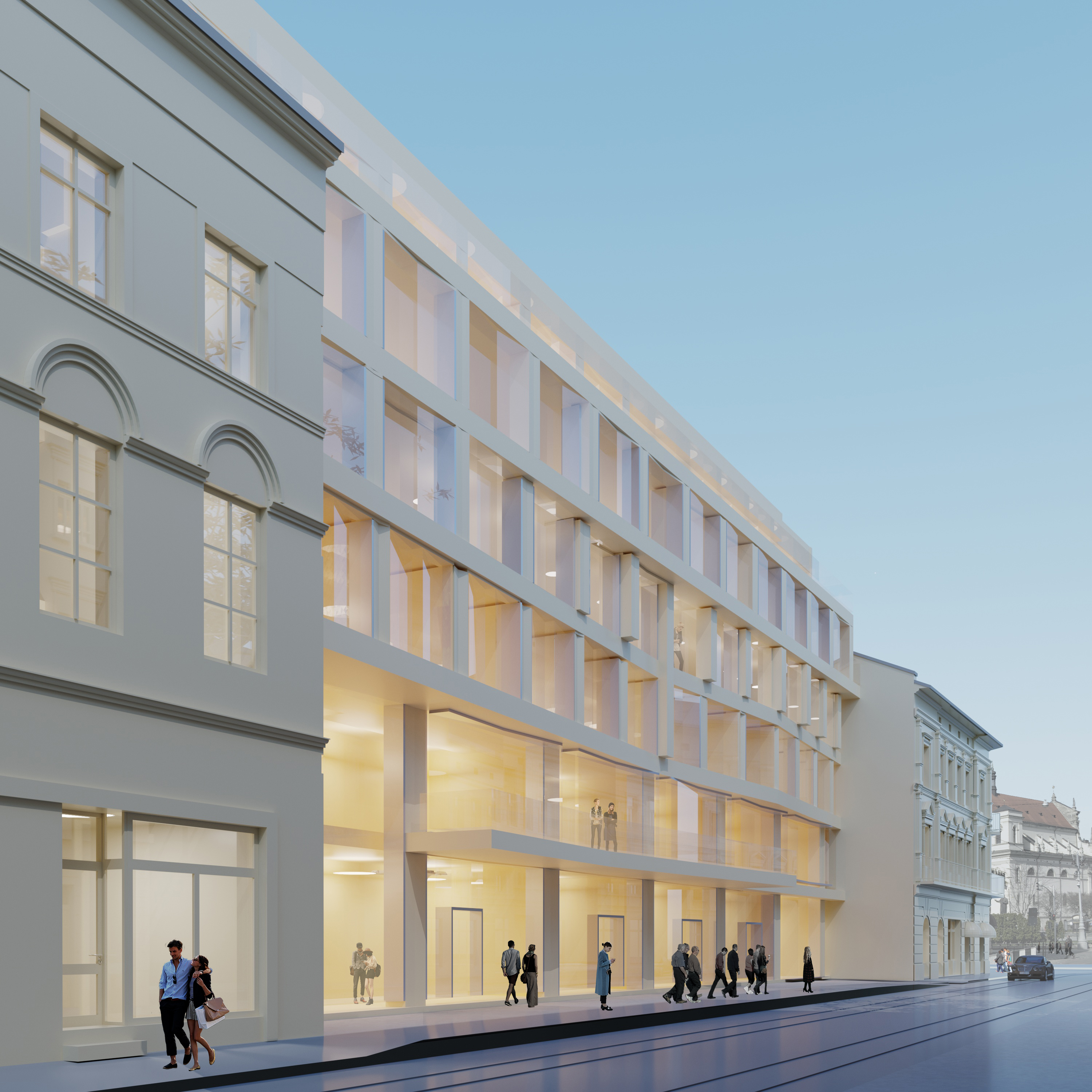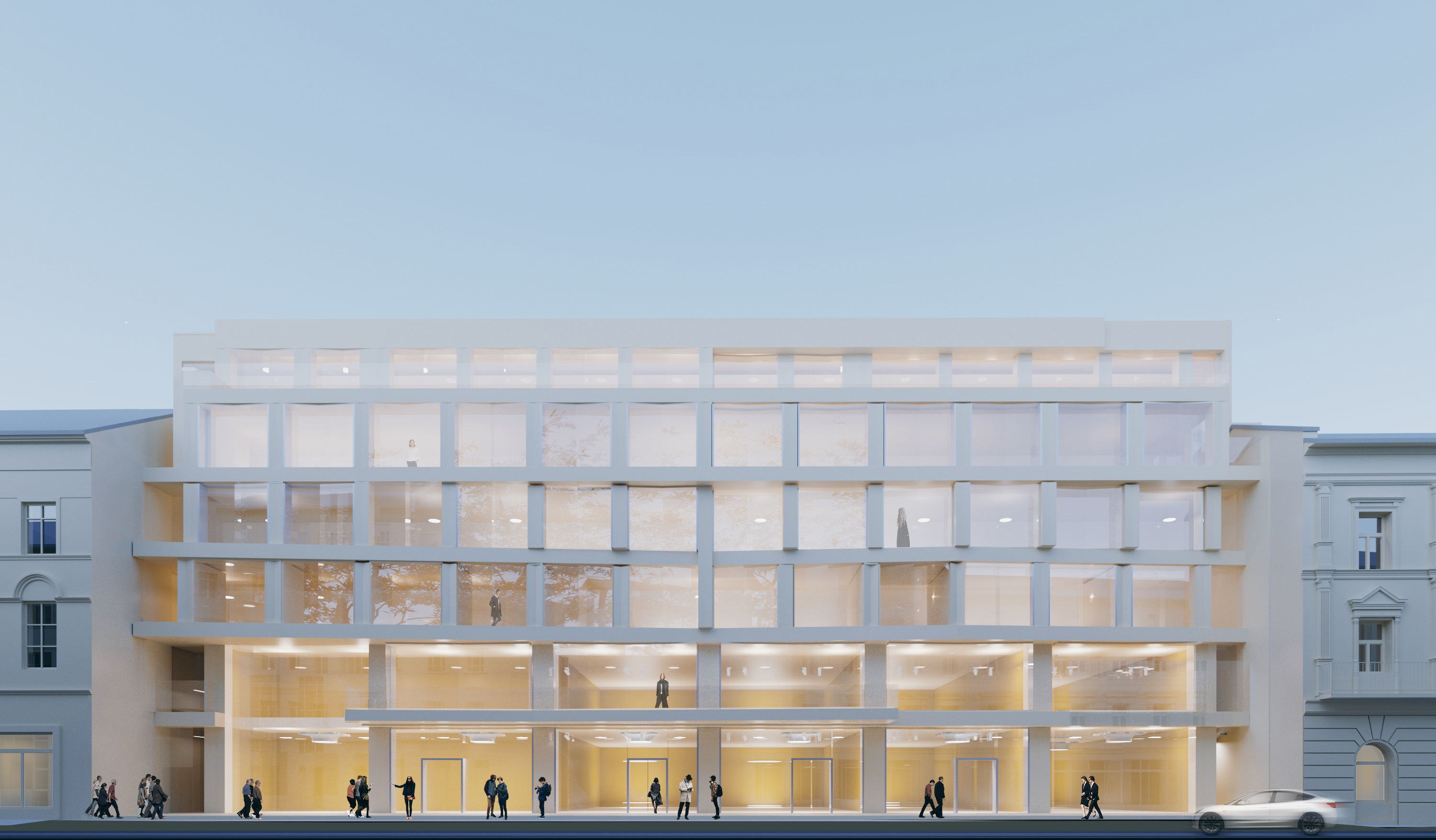 To preserve the public space and comfort of the street, the building is designed along the red line with a gap of 1 m at the level of the sidewalk.

Due to the current need for autonomy and isolation, the mall's stores have direct access from the street and vertical connection to the second levels of the shopping premises. Hotel rooms are planned to be separated into a block, isolated and provided with separate entrances and communications (vertical and horizontal) both from the existing hotel building and directly from the street.

Facade from the Doroshenko Street is oriented to the south-east, so the composition of the facade is formed by gently curved cornices, windowsills and recessed windows.

The curvature of the facade is due to the directions of the axes of visual perception from Doroshenko Street, from Svobody Avenue, from Beryndy Street and Ruska Street.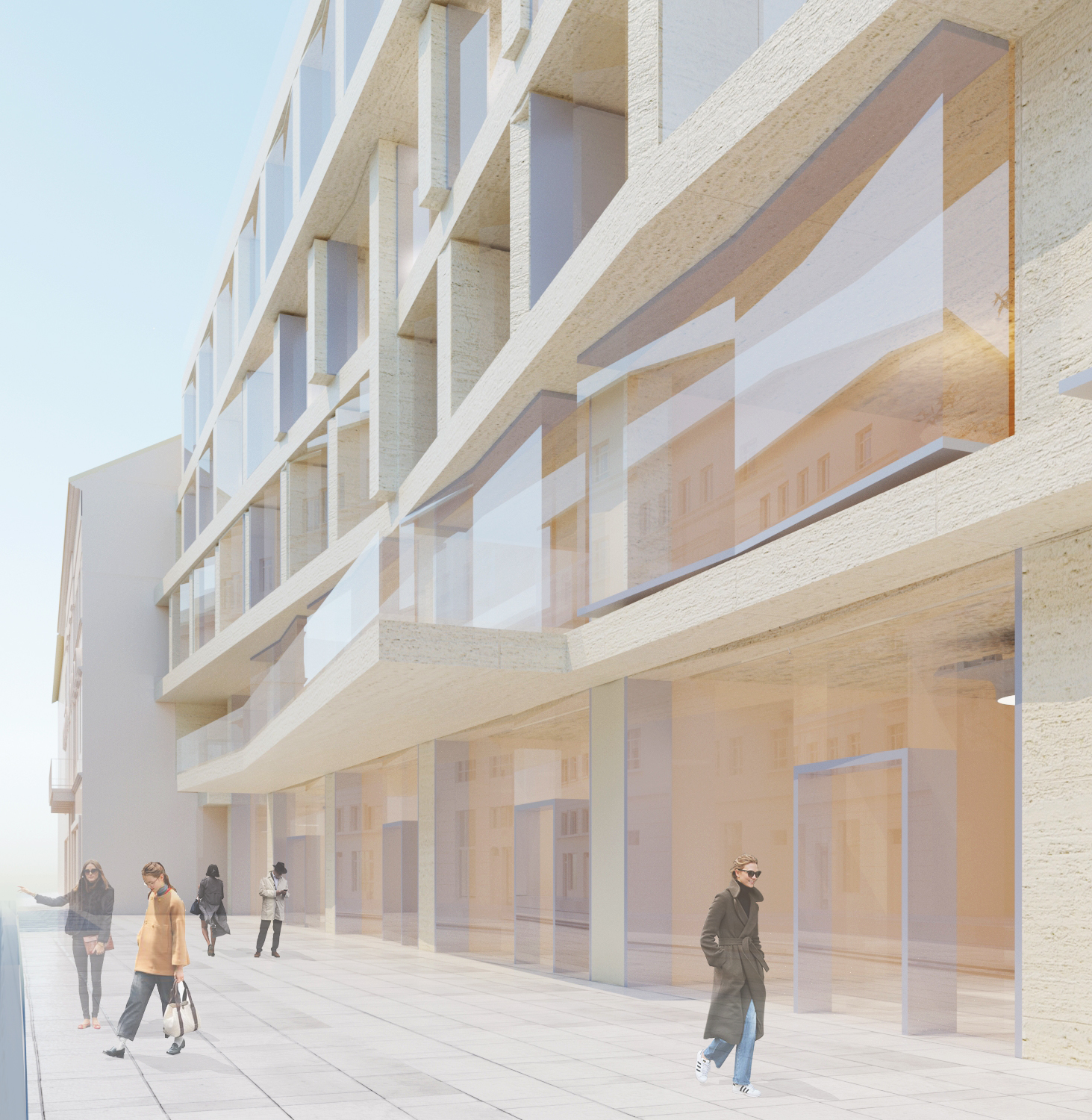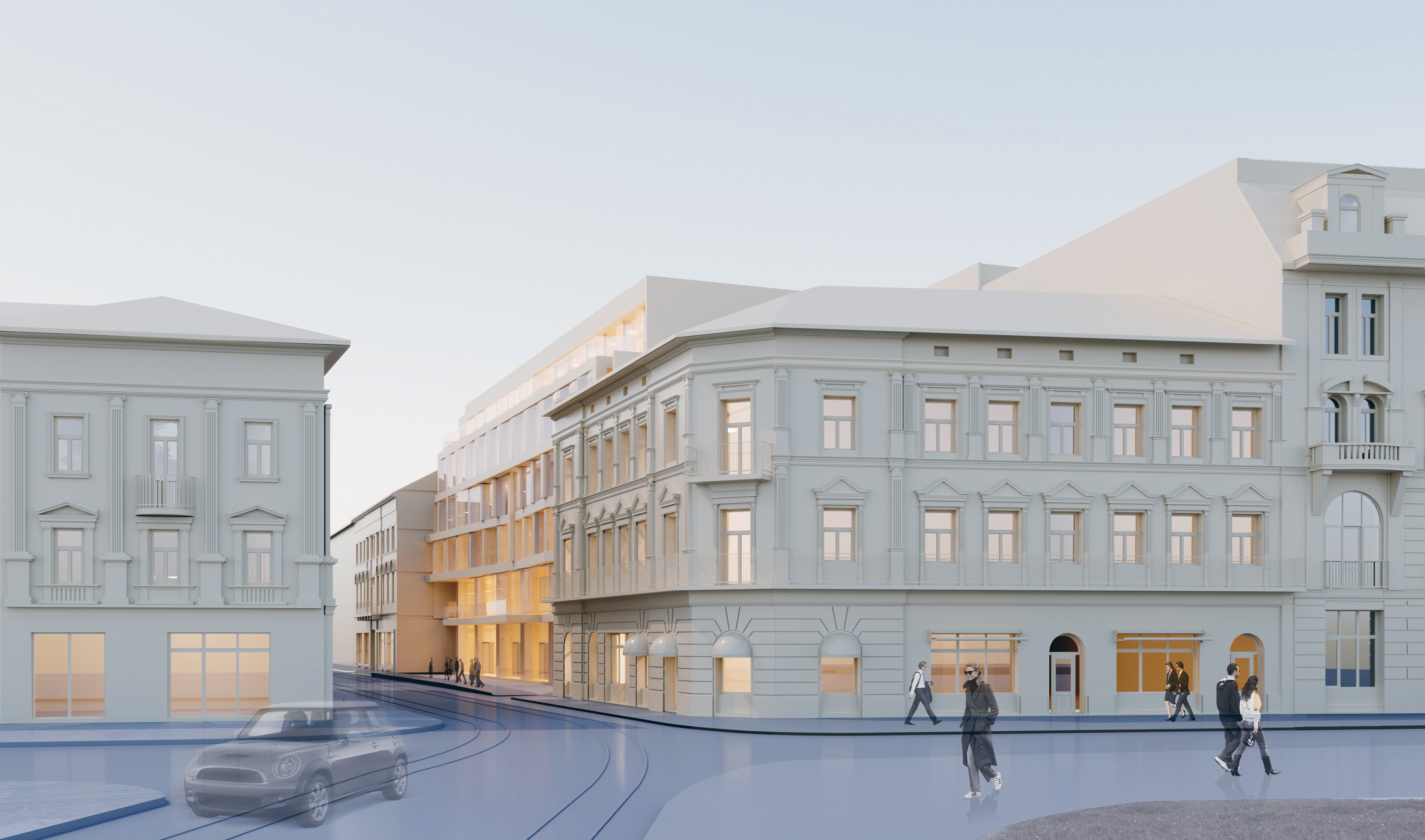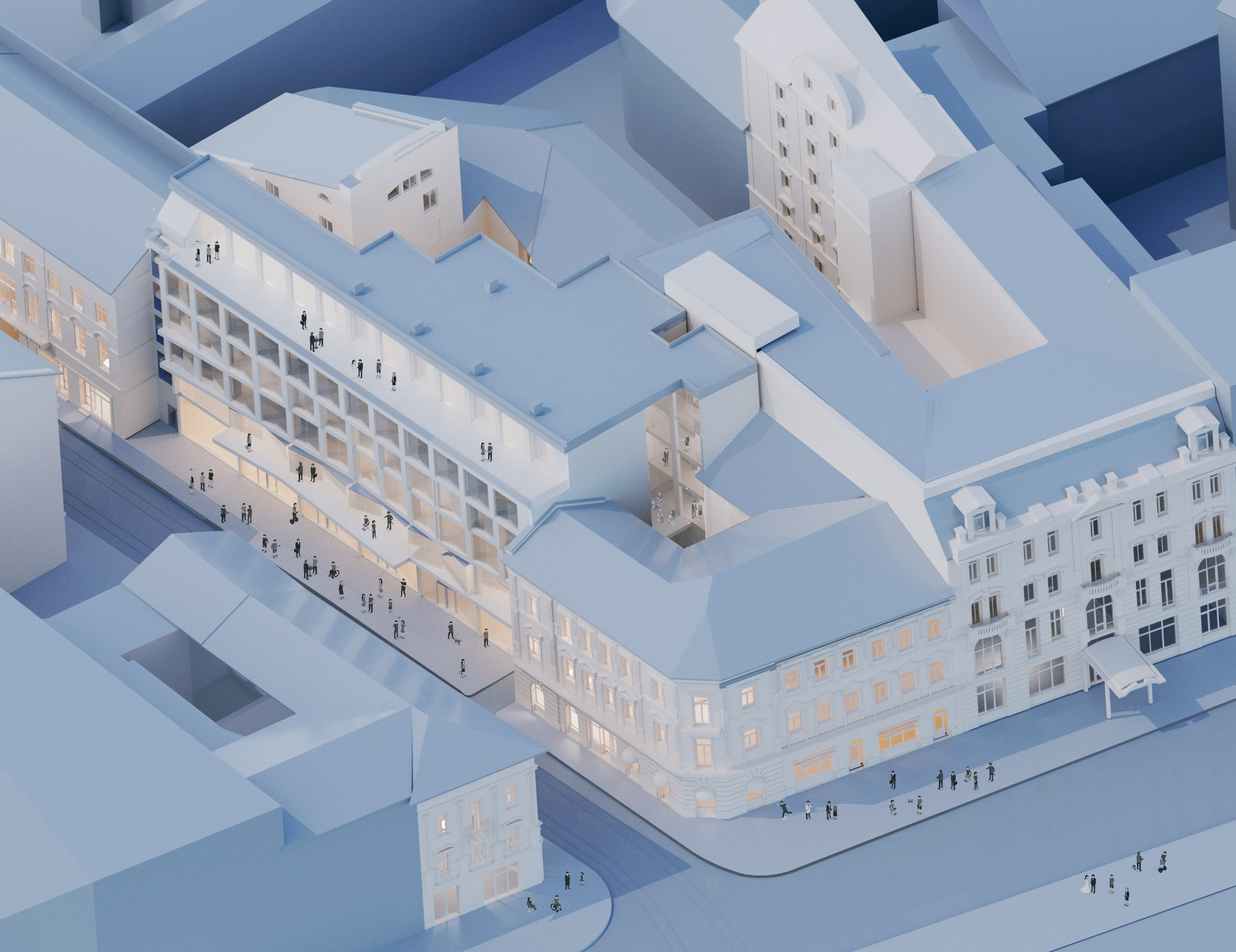 Large planes of windows identify the building in time, resonate with the spacious windows of the neo-baroque facade of the historic building of the Grand Hotel. The configuration of the windows in the plan determines the reflection of sunlight to the houses located opposite.

On the top floor there is a conference hall with an area of ​​301 sq.m and a large observation terrace overlooking the city center. The top floor is receding into the depth of the facade and is almost invisible from Doroshenko Street.

The spatial planning solution is aimed at maximum preservation of the existing public space from Doroshenko Street and construction of the courtyard with the use of terraced hotel rooms to avoid wells and preserve the insolation of existing premises overlooking the courtyard.

The facade is decorated with travertine slabs, window frames of brushed stainless steel sheets.
s